Household Storage – Commercial Storage – Document Storage
Sometimes it will be necessary to place some or all of your effects into storage before being able to move into your new home or you may simply wish to free up some space in your current home. Irrespective of whether you have long or short term storage requirements, or you need domestic or commercial storage, we are confident that we have a storage solution to suit.
Everything that you would like to store will be placed into our wooden storage containers. We will bring the containers to your home or business premises and your effects will be expertly wrapped and packed away. They are then sealed, returned to our depot, logged and stored away in our warehouse which is safe, clean and dry.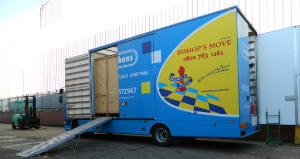 The benefit of containerised storage as opposed to single unit storage facilities is that the handling of your effects is reduced considerably. Once loaded, your effects do not need to be unloaded at the warehouse, we will simply fork-lift the entire container from the lorry and into the warehouse.

What our customers say
I have already recommended you to several people in the local area
I found Stephens Removals to be the best of the best.
The whole process was very quick, well managed, efficient and staff very polite
Everyone I dealt with was friendly and couldn't do enough to make sure our move went smoothly
the movers were polite and efficient and the job was completed as agreed.
The removal staff were very friendly, very careful with our things. But most of all they were good fun and made our moving day very special.
I was very happy with the service, they were very polite and they got the job done. Thank you
They really helped to alleviate the stress of the day. Staff in the office and warehouse very helpful and pleasant.
Stephens removal are excellent. I would highly recommend them.
All staff were courteous and helpful, nothing was too much trouble. They helped make the move as stress free as possible.
I definitely made the right choice in choosing Stephens
All the Covid Procedures felt very safe, from start to finish
Stephens are a professional outfit that we have used on all our house moves over the years
This is the second time we have used Stephens and on both occasions they have been excellent. I would highly recommend them
Very professional service from start to end. Friendly, helpful team.
 The team of 3 men who actually moved us could not have been better - so efficient, capable and fun - it actually made the move less stressful as they were so positive!
Staff are polite and very professional. I have used them three times now and my next move will definitely be with them again
This is the second time we have used Stephens for a family move in a year. Would always recommend them as they are a good local company.
Stephens were very helpful during our move
The service was excellent I could fault nothing. You should all score 11 out of 10.
We adhere to the British Association of Removers Alternative Dispute Resolution Scheme which is independently operated by The Furniture and Home Improvements Ombudsman