In the beginning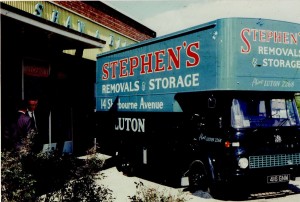 Over fifty years ago Peter & Marjorie Edwards quit their day jobs and started their own  removals business. As a young couple with two young boys on the scene this was not a decision to be taken lightly, but it was something they were determined to do. The removals industry was no stranger to them. Peter had worked for his father and elder brother at W.J Edwards Removals and Marjorie used to run their removals office. As Marjorie explains, life was much simpler in those days because you either had a small removal which cost £3 or a large removal which cost £5!
Since the Edwards name was already being used, Peter and Marjorie plumped for Stephens as the company name, after their eldest son.
Sheer hard work and determination saw the company through the difficult early years. The town of Luton was growing at quite a pace during the 60's, the work force at Vauxhall Motors expanded fast, many post-war houses were being constructed and the company's fortunes grew. After three years in business Peter and Marjorie could afford to buy their first brand new truck – a day they proudly recall.
By 1965 the company had three vehicles and moved to Linden Road, where the garage was converted into an office and the back garden into a furniture warehouse and yard for vehicles. The ability to offer storage was a real plus for the company and the whole family can recall how Sundays were often spent stacking and restacking furniture in the little warehouse so that "just one more consignment" could be stored.
Eventually fitting in "just one more consignment" became impossible. In 1986 an opportunity to purchase the entire Wingate Road site arose and the company took the plunge. During those years the company continued to grow and enjoyed some wonderful contracts, like the work for the Special Services Group which involved deliveries to Downing Street, The Bank of England and Balmoral. In fact, Stephens still displays the letter from Balmoral expressing their delight that the drivers telephoned ahead to apologise that they would be arriving ten minutes later than anticipated – in severe blizzard conditions the Royal Household hadn't really expected anybody to deliver anything at all!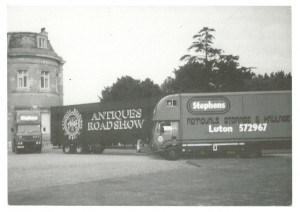 There was also the work carried out for the BBC Antiques Roadshow and one of the company's first trips abroad was for Luton Hoo. Celebrity clients the company has moved include David Pleat, Bob Monkhouse and Brian Connolly – not to mention a few lottery winners and anonymous millionaires.
A hugely proud moment came in 1998 when Stephens was awarded the Whitbread Supplier of the Year medal. The company also grew from acquisition, buying smaller removal companies with excellent reputations – A W Removals, Rooks Removals, Vousdens and recently Bramwells Removals.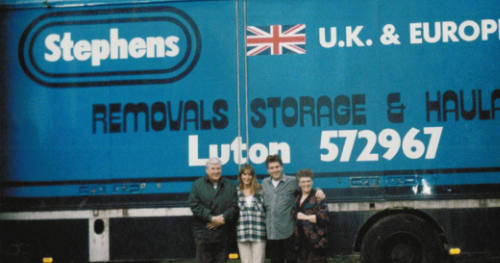 By far one of the company's most successful links has been its franchise arrangement with the Bishop's Move Group. As a sixth generation company and the largest privately owned moving business in the country it provides Stephens with the ability to tap into the strength of the Bishops brand and enjoy access to its skills and experience in overseas moving, training, IT, marketing and business development.
When asked to reflect on the company's success over the last 50 years Peter muses that although client's expectations have, quite rightly, grown enormously the key to providing first class customer service has not changed – we are a people industry and at the end of the day, it's all down to the staff. During stressful times, as moving days often are, customers need to feel that their movers not only know what they are doing but also that they are friendly, approachable, good communicators and above all careful. "So, take my advice – continue to employ only the best staff and then look after them, because if you do, customers will follow."
Peter and Marjorie retired in the 1990's, leaving their two sons Stephen and Philip – and later also their daughter Jane to continue building on the success of Stephens Removals. 2015 sees the third generation, Stephen's two children Danielle and Russell taking the helm, as Stephen and Philip look to take a well earned back seat in the coming years.

What our customers say
Very professional service from start to end. Friendly, helpful team.
Stephens were very helpful during our move
the movers were polite and efficient and the job was completed as agreed.
I was very happy with the service, they were very polite and they got the job done. Thank you
The removal staff were very friendly, very careful with our things. But most of all they were good fun and made our moving day very special.
 The team of 3 men who actually moved us could not have been better - so efficient, capable and fun - it actually made the move less stressful as they were so positive!
The whole process was very quick, well managed, efficient and staff very polite
All staff were courteous and helpful, nothing was too much trouble. They helped make the move as stress free as possible.
Staff are polite and very professional. I have used them three times now and my next move will definitely be with them again
All the Covid Procedures felt very safe, from start to finish
This is the second time we have used Stephens and on both occasions they have been excellent. I would highly recommend them
I definitely made the right choice in choosing Stephens
The service was excellent I could fault nothing. You should all score 11 out of 10.
Stephens removal are excellent. I would highly recommend them.
They really helped to alleviate the stress of the day. Staff in the office and warehouse very helpful and pleasant.
This is the second time we have used Stephens for a family move in a year. Would always recommend them as they are a good local company.
I found Stephens Removals to be the best of the best.
Stephens are a professional outfit that we have used on all our house moves over the years
I have already recommended you to several people in the local area
Everyone I dealt with was friendly and couldn't do enough to make sure our move went smoothly
We adhere to the British Association of Removers Alternative Dispute Resolution Scheme which is independently operated by The Furniture and Home Improvements Ombudsman